Amazon Music UK- Brit Awards 2020 Content


Amazon Music UK were the Official Digital Music Partner for The Brit Awards 2020.
Creating a unique look and feel for Amazon's involvement in the awards, content spanned all of their social channels before, during and after the event, as well as a large DOOH campaign in London.

We also streamed the awards live on Facebook & Twitter, creating reactive social posts to activity on the red carpet as celebrities arrived, and as awards were announced, generating 1.5million views.


Announcing the Sponsorship and Nominees in the Amazon Music categories:




Interactive quiz on Instagram stories: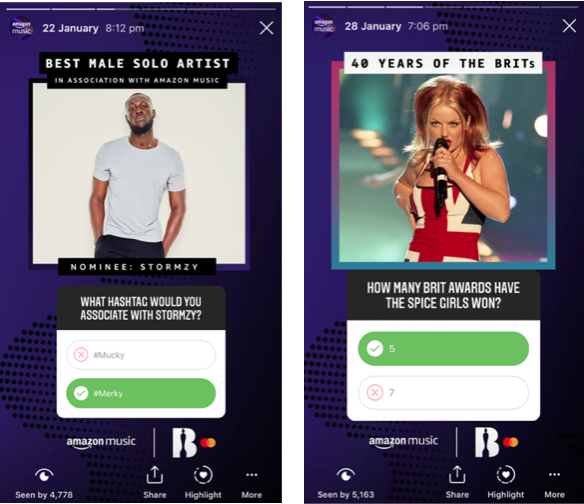 Weekly playlists for each decade in the build up to the show, linking to the Amazon Music store:





Generating nostalgia and excitement for the 40th Anniversary show on ITV with top Trumps style polls:






Being the Official Digital music partners, we had exclusive access to imagery and announcements of performers on the night.




Livestream on Twitter & Facebook: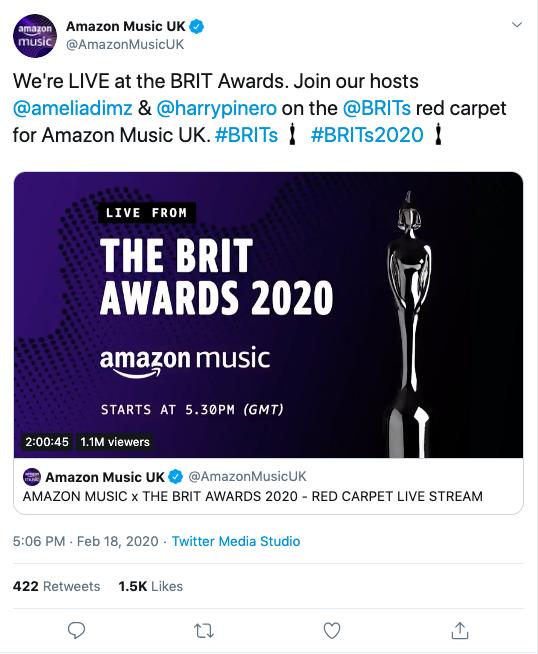 Clips streamed live from the red carpet:






Fun gifs during the show:




Awards annoucements as they happened:





Post Brits:





Exclusive performances from the Brits available on Amazon Music: