Amazon Music UK- Brit Awards 2020 Content


Amazon Music UK were the Official Digital Music Partner for The Brit Awards 2020.
Creating a unique look and feel for Amazon's involvement in the awards, content spanned all of their social channels and a large DOOH campaign in London.

We also streamed the awards live on Facebook & Twitter, creating reactive social posts to activity on the red carpet as celebrities arrived, and while the show broadcast as awards were announced, with a final count at 1.5million views.


Announcing the Sponsorship and Nominees in the Amazon Music categories:




Interactive quiz on Instagram stories: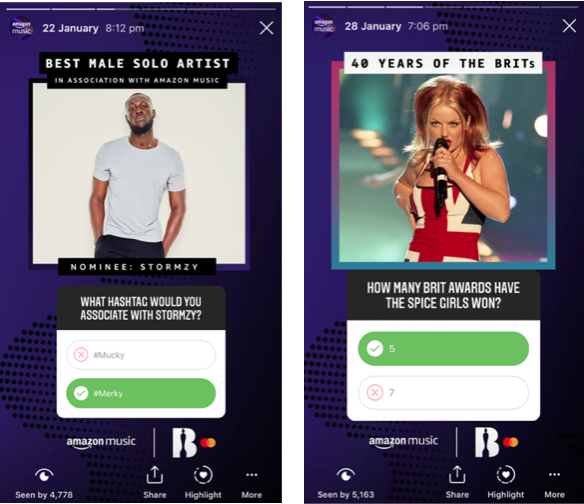 Weekly playlists for each decade in the build up to the show, linking to the Amazon Music store:





Generating nostalgia and excitement for the 40th Anniversary show on ITV with top Trumps style polls:






Being the Official Digital music partners, we had exclusive access to imagery and announcements of performers on the night.




Livestream on Twitter & Facebook: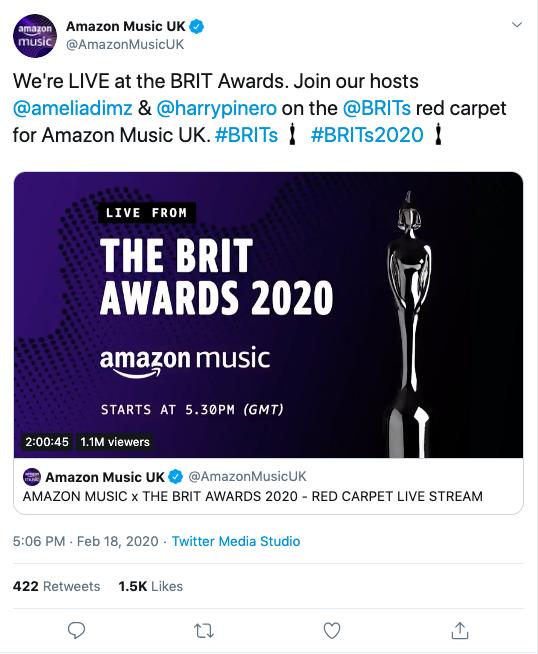 Clips streamed live from the red carpet:






Fun gifs during the show:






Awards annoucements as they happened:





Post Brits:





Exclusive performances from the Brits available on Amazon Music: